Velo Bum Elite Cyclery
71430 Highway 111
Rancho Mirage, CA
92270
JUNIOR & U23 WOMEN XC WORLD CHAMP'S
6/19/2008 Val Di Sole, Italy
Jill Behlen (Boulder, CO) and Deidre York (Indio, CA) finished 31st and 33rd respectively in the Junior Women's Cross-Country.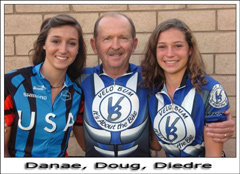 Congratulations to Deidre York!
MAY 28, 2008
USA Cycling has announced Deidre York (Indio, CA) to represent America on the Junior Women's Team this June in Italy. The World Championship will be held in Val di Sole Italy this year. Good luck to Deidre and all of the rest of the American Team.
Deidre took the victory at Santa Ynez to earn a spot on the Junior Women's squad.
Val di Sole, Italy
A natural environment of great value, a multimillenial history and culture and one of the most well known tourism areas in Europe: this is why Val di Sole, in the heart of Trentino, Italy, represents the ideal choice to host an international event. And the rainbow coloured 2008 edition will be an unrepeatable opportunity: the media's  spotlight will turn on to show the entire world the races, side events and the special events that will take place. One thousand athletes from over fifty nations will compete to become a world champion as they are watched by technical experts, journalists, photographers and mountain bike fans from every corner of the world.
All this to ensure that the passion for a true and authentic sport is brought to the highest possible level of the podium.
For more info. World Championships in Val di Sole